Innovative Airflow Technologies for Laboratories, Life Science, Healthcare
The flagship, award-winning AccuValve was designed for 21st century critical environment airflow control. The AccuValve's innovative, sustainable "green" design delivers technology-leading features and benefits.

The AccuValve airflow control valve delivers:
Low pressure drop (typical design <0.3″wc/75Pa)
Precise "true" airflow measurement
No straight duct run required before or after valve
Non‐position sensitive mounting (360° Rotation)
ASHRAE STD. 90.1 Compliant "ready"
No Scheduled Maintenance
5 Year Factory Warranty
The AccuValve ePI™ airflow control valve delivers all the features of the AccuValve plus:
Electronic Pressure Independence
Native BACnet®
Intuitive Graphical Interface
CV/Multi‐position CV Control
Tracking Pair Control
Fume Hood Control
BSC/Snorkel/Canopy Hood Control

Airflow Measurement Products for Outside Air, Duct and Fan Inlet

Triatek provides solutions for healthcare facilities and laboratories, utilizing Venturi valves designed to seamlessly integrate into a facility's building automation system. Triatek products can be used together as a complete system, but they are also designed to allow for "plug-and-play" functionality within an existing BAS, and can be fitted onto older components to upgrade them with the latest technology.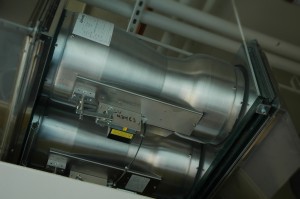 Related Information